Instagram is combating online bullying with the release of two new features specifically designed for the task.
In the cases of both features, the Facebook-owned service looks as if it is searching for ways to limit unacceptable behavior without downright banning users or blocking posts.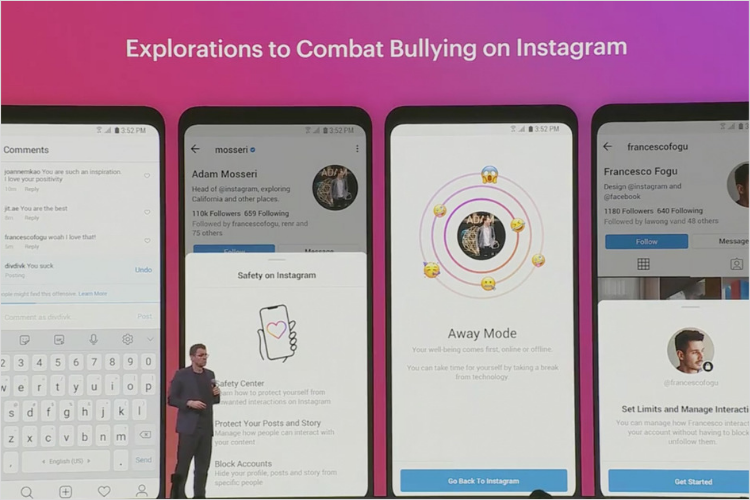 The head of Instagram, Adam Mosseri, summed it up by saying that he believed there was more his company could do to thwart bullying from happening on the social media platform. He went on to say that there is more the service can do to empower those who are being bullied to stand up for themselves. The tools released today are said to be grounded in an understanding of how bullying works – how someone bullies another and how people respond to bullying they see on Instagram.
The first feature uses artificial intelligence to alert users to the fact that a comment they are about to post may offend other people. In cases like this, the users are asked "are you sure you want to post this?" The option is then presented to "undo" the posting of the comment before it is ever seen.
Though this may seem like a tame response by some, especially when considering that the original comment can still be posted if the user wants to do so, according to Mosseri early tests have found that the prompt encourages people to share something less offensive and hurtful once given the chance to reflect on the comment and its potential effects.
The second feature is the capability for users to restrict the people who are looking at their accounts.
According to Mosseri, many young people aren't quick to unfollow, block or report bullying because they believe it could escalate the situation. This is felt even more if they have to see their bully in real life, say on the bus ride to school or in the lunchroom, for example.
By using the latest anti-bullying feature, you can now limit another user's engagement with your account – without it being obvious. When someone is restricted, the comments they make on your posts can only be seen by them, unless the comment is approved by you to be seen by everyone. If someone is restricted, they also are unable to see if you've read their direct messages or if you're active on Instagram.
These tools are just one part of Instagram's ongoing efforts to reduce bullying, which have become a greater priority with the arrival of Adam Mosseri last year. In the past, Instagram has experimented with filtering negative comments, hiding like counts and using machine learning to reduce bullying in photos.
While standing up against bullying is a noble thing to do, it is also good for business. Mosseri has told the press before that over time, it is possible that bullying could hurt Instagram's reputation and brand. They must be sure to finely walk the line so users aren't alienated, but Mosseri says he is willing to make decisions that keep more people safe, even if that means people use Instagram less.